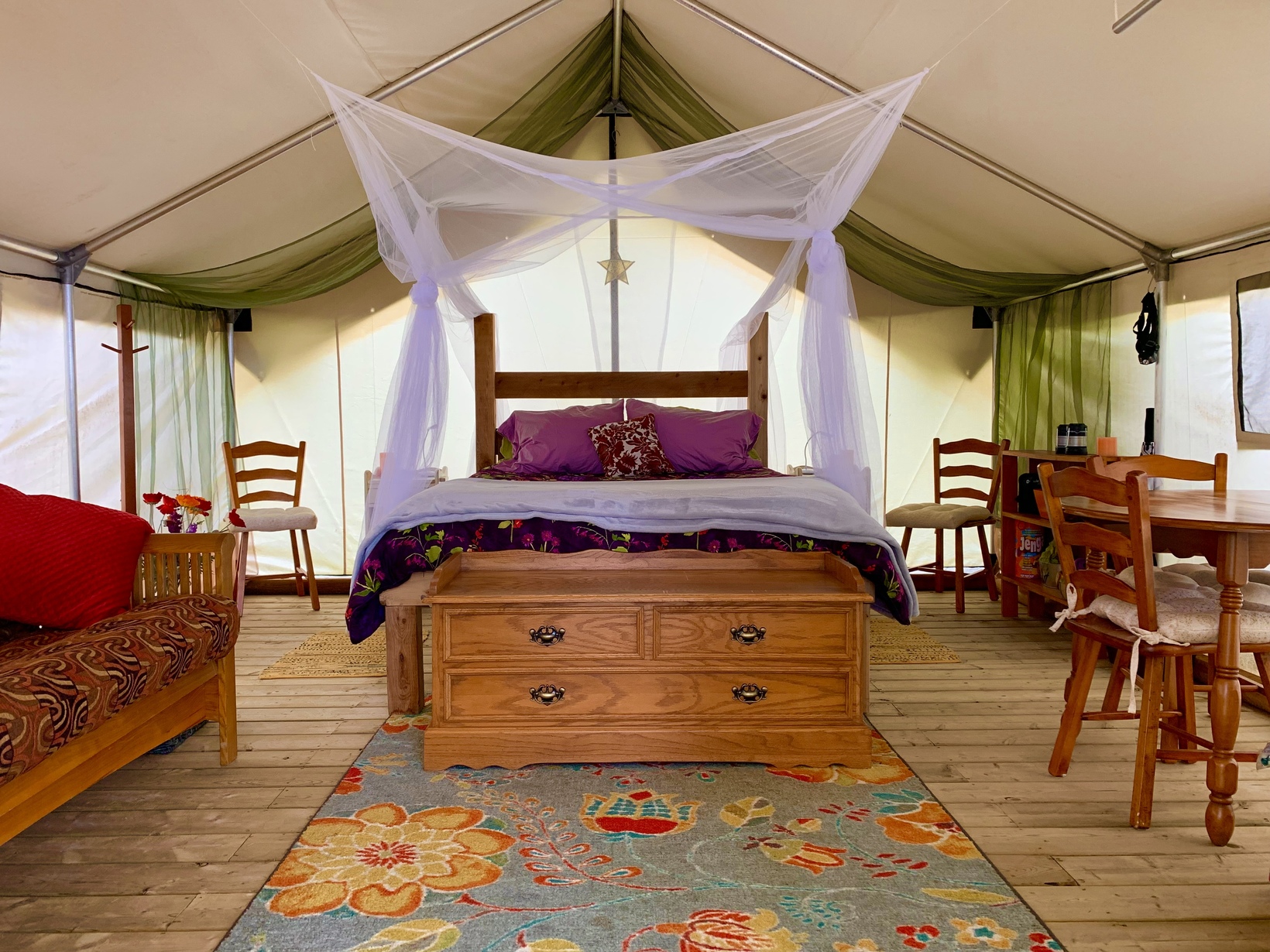 Best Glamping on the West Coast, Vancouver Island
Glamping has become the newest way to escape, recharge, and pamper oneself. A combination of 'glamourous' and 'camping', glamping originally was meant to take all the costs and trials of putting together a camping weekend to explore the great outdoors without all the guesswork of what to bring, the hassle of cleaning and putting away all the kitchen equipment, sleeping bags, and tent, and where do we possible store all this gear?? Never mind what if it rains?!
The idea of leaving home with your clothes, your food, and your entertainment, showing up at some remote location, and being able to simply chillax has become quite popular amongst aging campers and also, the non-campers.
Glamping allows everyone to enjoy the outdoors and still have the luxuries of staying in an Airbnb or Hotel. And, as in both of those cases, there is a wide range of glamping places to stay. From Über high-end tents and cabins to mid-range, to budget-style trailers. Some allow pets, some include meals and extra spa services.
We operate an Off-Grid, waterfront glamping business on the west coast of Vancouver Island, where people have the option of exploring the local beaches, towns, islands; trying their hand at the best surfing on the west coast; or they can stay on-site and check out the tide pools, hunt for beach glass or sit in the water and watch the wildlife.
We also recognize that being off-grid isn't for everyone. So we compiled a list of other Vancouver Island locations that might suit your needs better. Try glamping! It fills the soul....
Wildpod Luxury Waterfront Glamping (Tofino) Located right on the water, virtually downtown in Tofino, these geodesic domes are quite luxurious. Stunning views and a central location make this resort special. suitable for a romantic getaway.
Wya Point Resort (Ucluelet) This Resort offers all options when it comes to exploring the west coast. It has a lodge, cabins, yurts, and camping. It sits on a small private beach and is a 10-minute drive into Ucluelet. They are pet-friendly and have water and power.
Clayoquot Wilderness Resort (Tofino) Named after Clayoquot Sound, this resort is definitely an escape. Accessed by boat or Floatplane, it is the most luxurious of the glamping sites. It offers a full spa, full-service restaurant - certainly a destination. It is a high-end, west coast experience.
Fossil Beach Farm (Hornby Island) - Located on the picturesque Hornby Island which is a two ferry boat ride from the east side of Vancouver Island. Beautiful beaches and a funky little gulf island vibe. Fossil Beach Farm is a working, 100-year-old heritage orchard and farm. They offer glamping tents of various sizes and have washrooms, water and they produce their own cider for you to taste and purchase.
Free Spirit Spheres (Qualicum Beach) Perhaps the most unique of all glamping platforms. The Spheres are actually 'Spherical Treehouses' suspended in the trees and are luxuriously outfitted. There are stairs and walkways through the trees to access your Sphere. There are three spheres and they are all truly unique.
Browns Bay Marina and Ripple Rock RV (Campbell River) About 20 minutes north of Campbell River with a 5km easy logging road brings you to a beautiful waterfront resort with places to park an RV, luxurious cabins, and Glamping Tents. This resort has a floating restaurant open for 5 months in the summer, a boat launch, a clubhouse with a pool table, kitchen, and hot tub. the tents are quite large. The resort is perfect for families and is pet-friendly.
Glamping is certainly a unique experience. You can find operations that can fill most of your needs, from a range of budgets. What we've heard the most is that with the cost of traveling with a large RV, or organizing all the gear to camp, people are choosing this "no fuss, no muss" attitude.
Danielle and I have traveled and camped all over Vancouver Island, and one thing we are certain of is that there is so much to explore.
Enjoy!