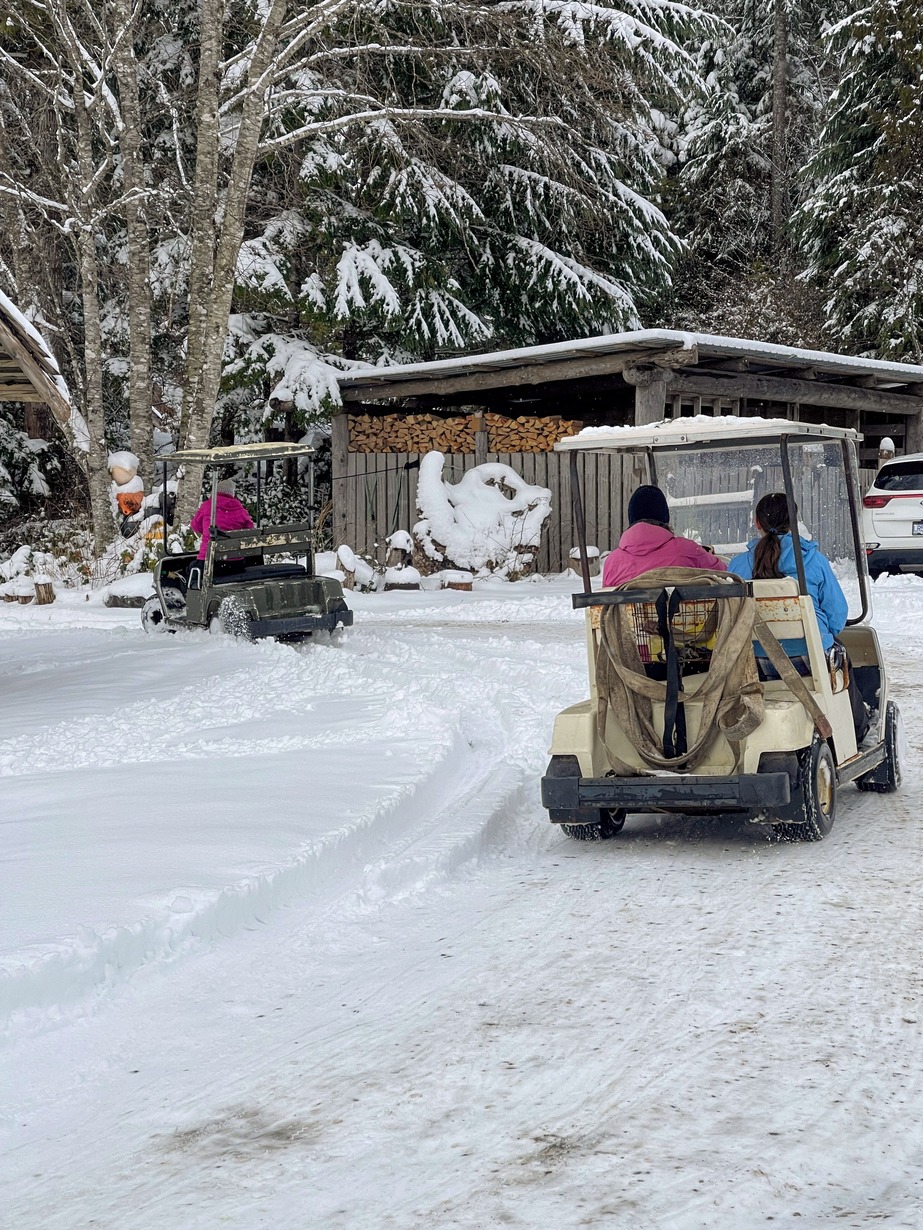 Golf Cart Racing - Mussel Beach Style
So, like most of Vancouver Island, the west coast was hit with a substantial amount of snow this February. And, like most of Vancouver Island, this threw Mussel Beach into an even deeper lockdown - of the fun kind.
It also poses a different problem when you're as off-grid as we are. When this happens, we have to first check the three main things - water, power, and poo.
Water tanks, water lines, and water pumps. Nothing, I mean nothing, flows or works if it freezes.
No sun, solar panels covered in snow, no charging, no power. Thank goodness for generators. Seems kinda ridiculous at times to be running generators in order to live off-grid, but, you do what you gotta do...
And without the above two things, you're left with a pile of poo... literally.
We talk about these things, us four, quite regularly. It always comes back (down) to poo. The basic common denominator. You can't do too much when you've got too much of that shit...
This is why, on days like we've had this last little while, we took the time to race the golf carts around the grounds. I've done a lot of crazy, daredevil stuff over my life, but racing golf carts in the snow with such worthy opponents as Curtis (did most of the race backward), Jazzy (12 years old with attitude), and our better halves - Danielle and Lori (spending more time going sideways - unintentionally) really taxed my bravado. Not that I'm great at racing mind you, but I was determined to beat Curtis. I resorted to scooping up snow and throwing it at him from the other side of the track.
Roller Derby Racing, Jazzy called it.
So, checking the grounds, checking pipes, checking batteries, building a psychotic snowman, and ripping around the beach in the snow, made for an exciting day. Didn't get a lot of work done mind you, but you need these kinds of days.
It's a crazy world out there. We love being out at Mussel Beach, off-grid, but you still need to stay sane. Stay safe and sane out there!
Thanks for reading...