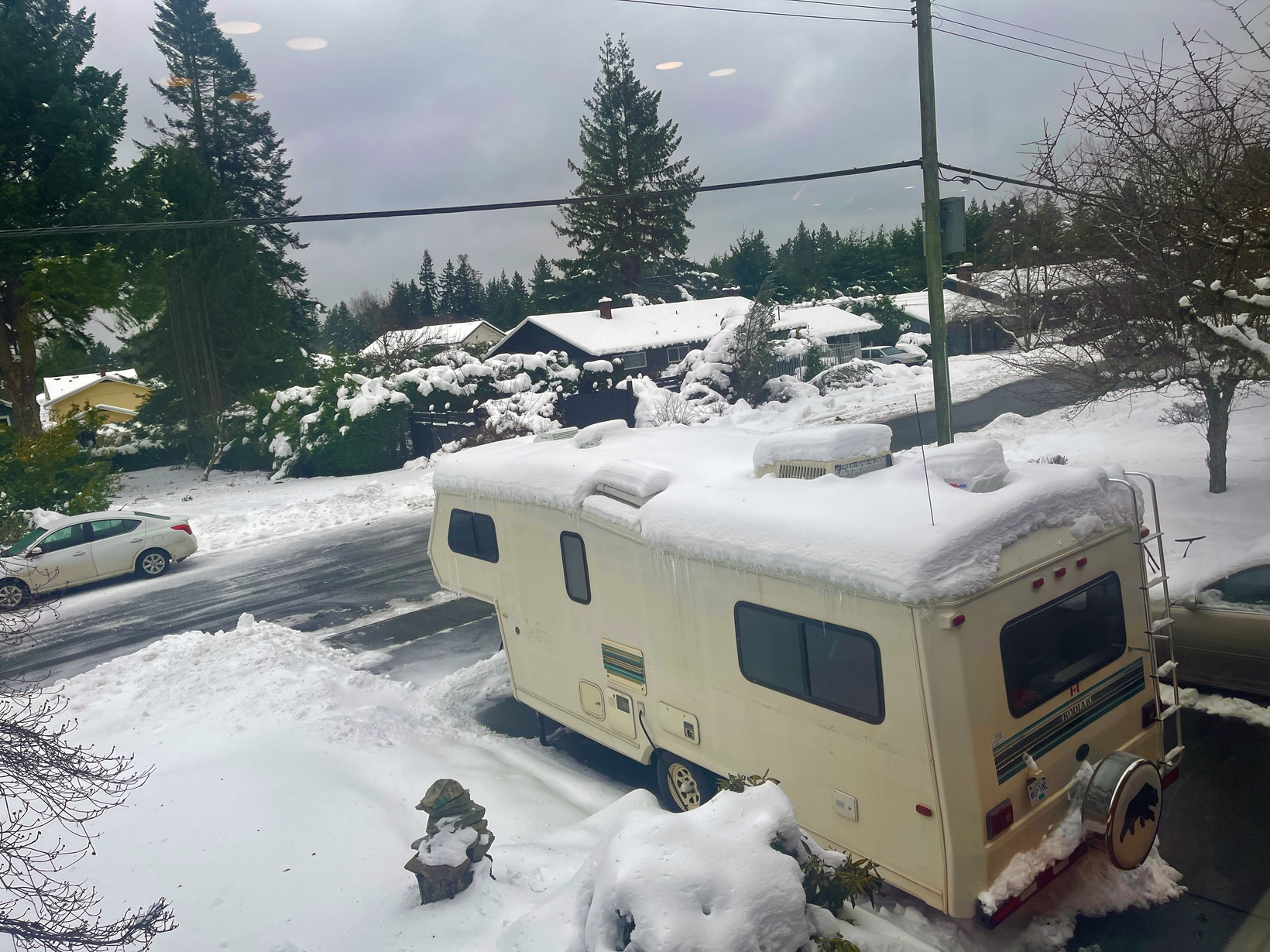 How's the Trailer Renovation going, you ask....
Wow. Right now the snow is blowing sideways. I'm so happy being inside writing this...
Our second winter was spent here on Vancouver Island. Rather than travel off to the far reaches of somewhere warm, we elected to remain and get a head start on renovating our newest addition to So Damn Lucky Glamping - Yogi.
Yogi is our second 1995 Kodiak Fifth Wheel that we picked up in Calgary in the spring of 2021. We've been working on an oceanfront site for her out at Mussel Beach - carving out another piece of paradise to sit, or beach comb, and gaze out over The Broken Group Islands and the great Pacific Ocean.
These are fantastically made trailers with double layers of fiberglass and a solid internal frame that really makes them sturdy. I've worked on a few trailers now - Alpenlite, Bigfoot, Trillium, and now two Kodiaks. We are very particular when we purchase trailers. Fiberglass preferably, but I'm not averse to aluminum-sided trailers, as long as they've been treated well and maintained well - trailers take a lot of maintenance.
What we normally do, is take a perfectly good trailer, and gut it. People are often dumbfounded by the seemingly unnecessary work we do. But upgrading a trailer is never a waste. New benches, cushions, cupboards, flooring, are all relatively inexpensive ways to make your trailer more attractive, practical, and comfortable. We also install new electrical wiring, batteries, diesel heaters (an amazing difference in heat, especially on the west coast!), solar systems, and in some trailers, inverters. If anyone wants my take on how to do these things, send us a message and I'll answer what I can, but I'm certainly no expert - in this case, Google and Youtube are your friends.
So. We've already renovated one Kodiak 22+2 Trailer (it's 24 feet. Don't ask me why they break it up into 22+2 - seems silly), so I'm anticipating it'll be the same. And it totally is. Here I am, ready to go - lots of materials, all my tools and saws I've brought back from Mussel Beach, and I'm ready to start. Just as 2021 has done throughout the year, it makes a mess and decides to dump snow, so much snow in fact that my tool trailer is covered, Yogi is covered and there's more shoveling than anything else.
We've done some work inside - removing old carpet (have you ever seen how much dirt collects under carpet?? So gross...), cupboard doors are off, diesel heater is installed, the clic-clac couch has been removed as well as all the valences and Venetian Blinds. Why they come up with these velvety turquoise colours for trailers I'll never know. But out they go!
And that's as far as we have gotten. Everything is frozen.
I'll keep you posted, but for now, we're enjoying the time at home and our To-Do lists keep on growing. But I have a good feeling about 2022, mind you 2021 really lowered the bar...
Thanks for reading....